It just for 2 hours from Tokyo to Nikko World Heritage sites,
Toshogu shrine, Rinnohji temple and Futarasan shrine.
Welcome to historical Nikko.

* JR Tokyo >>> JR Utsunomiya >>> JR Nikko(1h30m)
* JR Nikko >>> Senhime hotel (1min on foot from Sougoukaikan-mae bus stop, 6min by bus from Nikko station, or 5min by taxi from JR Nikko station)
* Tobu Asakusa sta. >>> Tobu Nikko(1h40m)
*Tobu Nikko >>> Senhiime hotel (1min on foot from Sougoukaikan-mae bus stop, 6min by bus from Nikko station, or 5min by taxi from JR Nikko station)
*Metropolitan expressway(Kawaguchi Jct) >>> Utsunomiya I.C(Tohoku expressway 1h30m)
>>> Nikko I.C(Utsunomiya-Nikko toll road 20min)
* Nikko I.C日光I.C >>> Senhime hotel (5min)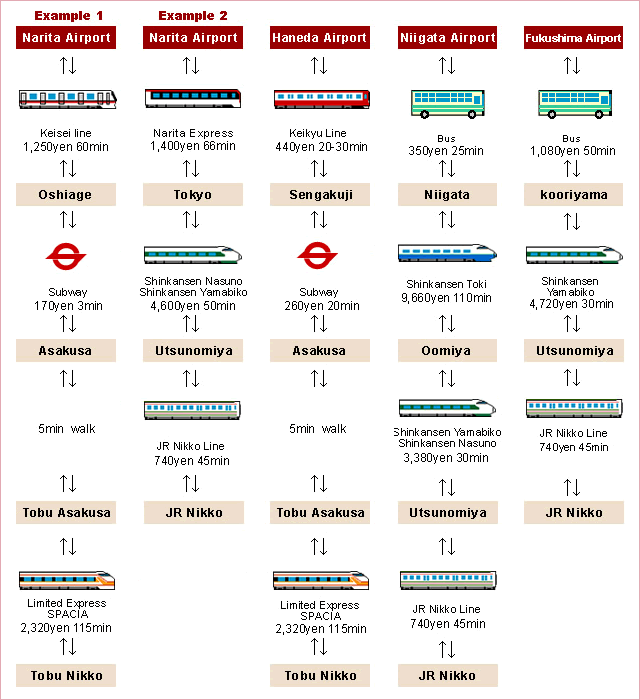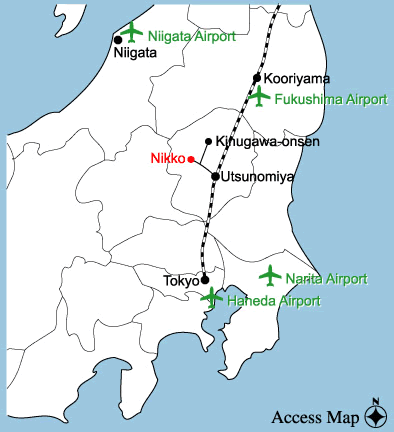 Nikko is located on highland, and will be snow in the Winter. Please be ready for snowy condition by tire chain, or studless tire.

Government Registered Tourist Hotel
Nikko Senhime-monogatari Inn
Zip code: 321-1432 Yasukawa-cho 6-48, Nikko, Tochigi, Japan
TEL +81-288-54-1010 FAX +81-288-54-0557

Nikko Toshogu Shrine

Ieyasu Tokugawa is enshrined there. The Toshogu Shrine has been inscribed as a World Heritage site since 1999.
Yabusame -horse-back archery- will be performed in the Spring festival of May.
Rinnoji Temple

Rinnoji temple was built by priest Shodo in Nara period. It used to be called Shihonryuji temple at that time, but finally named as Rinnoji when Prince Rinnoji came to there in Edo period.
Futarasan Shrine

The symbol of moutanious worship since early times. Especially, many buildings of Shinto shrines were built in the medieval and period. In addition. Tokugawa shogunate built more shrines around there.
Tamozawa Imperial villa memorial park

It is located nearby shrines and temples of Nikko, which has been inscribed as a World Heritage site. You will look up mountain area of Nikko such as Mt. Nantai and Nyoho in the North. Moreover, you will find beautiful rivers around.
Kanmangafuchi Abyss

The most beautiful spot around the river of Daiya. You will pass through the Toshogu shrine and go to the Nikko botanical garden. The abyss is located behind the garden. According to a record, a Japanese famous poet Basho visited there in 1690.
Bakejizou

Hundreds of Jizou are put in the line, but numbers are not always correct because of its quantity. It is just like a ghost.
Followers of bishop Tenkai put them for mental training.
Nikko Botanical Garden

It opened in 1902 for the purpose of education practice for graduate school of Tokyo university. You can enjoy watching the wild plant through the year. There are about 2200 kinds of plants' including natural growth in the forest of 26.1376 acre.
Takinoo path

An approach to the Takinoo shrine. A mile stone stands behind the office of Toshogu shrine. The mile stone tells us, The path starts here.
"Why don't you go for a walk in the woods?
Kosugi Hoan Museum of Art

An honorary citizen of Nikko,
Kosugi Hoan's art museum. You will enjoy appreciating works of him.