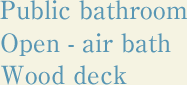 You will be healed both mentally and physically in simple alkaline hot spring by stretching out your legs. The seasonal view, in the Japanese garden style open-air bath, will entertain you.
Why don't you feel natural beauty at the deck on the bath-side?
*Our onsen is certified by onsen law as a legal spring.
*We add water, heat and filter circulate to the original spring.
*No tattooed guest, no drunken, no mobile phone, no smart phone in the bathroom. Thank you for your understanding.